Description
Secure case designed for Motorola Portable Radios.
Rugged portable radio cases that will not wear out over time like stock leather cases or snap like the bikini style cases included with most Motorola radios. These cases are secure, easy to clean and resistant to blood and chemical contaminants!
CASES ARE DESIGNED TO FIT AS MANY DIFFERENT BATTERIES AND CONFIGURATIONS AS POSSIBLE. THERE WILL BE DIFFERENCES IN FIT BETWEEN BATTERIES/CONFIGURATIONS - THE RETENTION LANYARD IS DESIGNED TO ACCOUNT FOR THOSE DIFFERENCES.
If you have the APXNEXT with the tall (or tall and short) battery - order the APXNEXT EXT case. This case will fit the tall battery and has a shelf you can use to also fit the short battery. The EXT/tall case is only available in plain black or basketweave currently - 6 colors to come later this year. If you have the NEXT XE (Typically bright yellow and used by the fire services) - make sure to note the order and send us an email with your order number so we can mod the case for the extended side buttons.
APX NEXT (Short / Standard Battery)
APX NEXT EXT (Tall / Extended Battery) - will work with the short battery also! For more info on the new APXNEXT Cases see below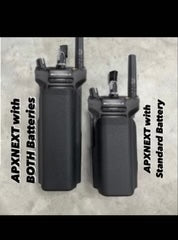 APXNEXT/APXNEXT EXT
We have cases for the APXNEXT with the short/standard battery (cases we've been offering for a few months) and now cases for the APXNEXT with the Extended battery (tall battery) that ALSO work with the short/standard battery through the use of a shelf inserted in the case.The shelf comes installed in the case for transit - if you have the tall battery - remove the shelf and hold onto it somewhere safe in case you ever need to use the case with the short battery.
 If you have the short battery but plan on getting the tall battery at some point down the road - order the APXNEXT Case (Extended Battery) HERE and keep the shelf in the case until you get the tall battery.
 The shelf can be removed by pinching the 2 side tabs at the bottom of the case and dropping the shelf out from the top.  To reinsert the shelf - slide the shelf back into the case from the top and push down on it until the 2 side tabs click in place.